Cupping is a traditional practice using plastic suction cups on the skin, which rids the body of toxins through the skin and muscles, leaving you feeling relaxed, refreshed and energised.
A partial vacuum is created in cups placed on the skin by means of suction. This draws up the underlying tissues, massaging them and helping to rid toxins.
Cupping has been found to affect the bodies muscle tissue to a depth of up to four inches, causing tissues to release toxins, activate the lymphatic system, clear colon blockages, help activate and clear the veins, arteries and capillaries, activate the skin, clear stretch marks and improve varicose veins. Cupping can also aid blood flow and reduce inflammation while helping to improve the overall relaxation and well-being of the individual. At Lelux Thai Massage, we're proud to offer traditional cupping to our clients in Melbourne, helping people step away from their busy schedules and focusing on the overall wellbeing of their body, mind and spirit.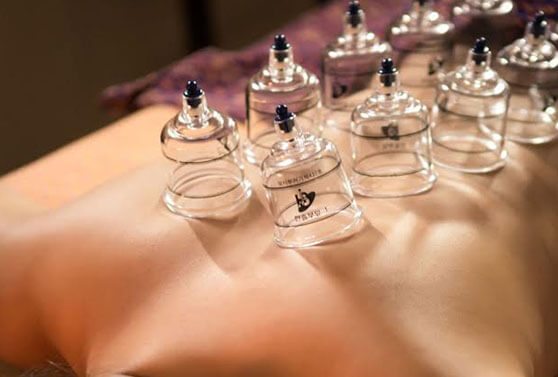 A Selection of Treatments, Including
At Lelux Thai Massage, we offer a selection of massage treatments to encourage the relaxation of the body and increase positive mindfulness. As we're located in Essendon, our cupping available to residents in Ascot Vale, Keilor, Moonee Ponds and the surrounding Melbourne suburbs. From the moment you enter our massage centre, you will be treated with the utmost professionalism and care. Our massage therapists have undergone diligent training to ensure their massage and communication skills are at the highest level. Every customer that comes through our doors will receive the highest level of care.
We're also proud to be partnered with over 36 health care funds to offer rebates with our services – you can find a comprehensive list of our health funds here.
If you'd like to find out more about our cupping services for people in Ascot Vale, Essendon, Keilor, Moonee Ponds and Melbourne, please don't hesitate to call our staff. You can reach us on (03) 9043 9742, and our staff will answer any questions relating to our massage treatments, services and rebates you may have. We look forward to meeting you soon.